Family owned and run, steps to the beach. All pets welcome, free of charge. Squeaky clean!

20 S. Ocean Avenue
805-995-3670
Toll Free: 800-965-2699
cayucosm@gmail.com
CENTRAL COAST REAL ESTATE
Full-service Real Estate, brokerage, sales, property management, and rentals
10 N. Ocean Ave #112
805-995-2347
catherinestone@att.net
Custom built, 8 bedrooms (5 are ensuite), 6 baths, 2 sleeping lofts and a detached multi-purpose room. Guest suites are private, featuring king to queen-size beds with private bathrooms. The lodge sits on 850 acres of gorgeous rolling hills.
2005 Cottontail Creek Rd.
805-995-1787
info@cottontailcreek.com
A great selection of beach front, ocean view and ocean proximity vacation rentals. All vacation rentals are comfortably furnished and outfitted with pillows, blankets, color TV, microwave and BBQ, unless otherwise noted. Nightly rate available on most properties during winter season. All of our vacation rentals are non-smoking.
148 North Ocean Avenue
805-995-3678
Toll Free: 888-925-5820
rentals@highwayonerentals.com
SHORELINE INN...ON THE BEACH
30 unit family owned and operated lodging on the beach. Pet friendly.

1 North Ocean Avenue
805-995-3681
Toll Free: 800-549-2244
info@cayucosshorelineinn.com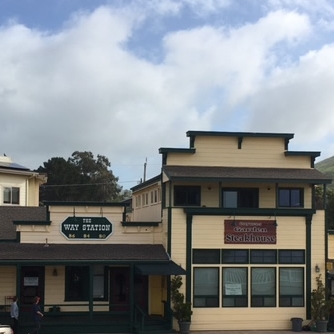 THE WAY STATION LUXURY VACATION RENTALS
Luxury vacation rentals across from beach offering lovely garden setting for special occasions.
80-86 North Ocean Avenue
805-748-5625
Retreat and sanctuary for couples located on 160 acre guest ranch.
9150 Santa Rita Road
805-995-9320
rsarfa@earthlink.net